An Owl cushion designed for kids

OWL KIDS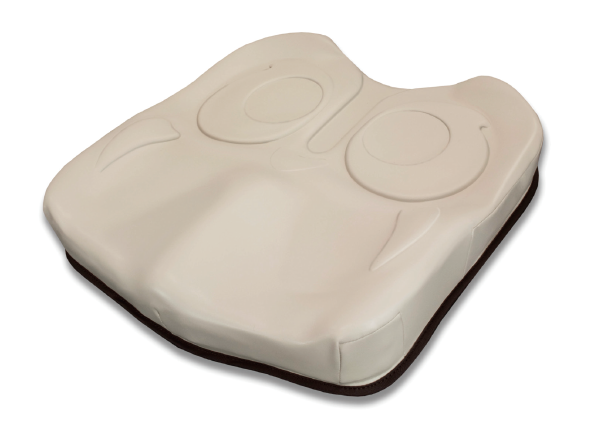 3D form
Owl pattern
Distribute body pressure
Posture maintenance
Prevents adduction
Prevents abduction
3D form
Owl pattern
Distribute body pressure
Posture maintenance
Prevents adduction
Prevents abduction
Owl functions and design to make kids happy
Many people use wheelchairs that do not fit their bodies, slide forward in the wheelchair over time, or otherwise suffer problems when sitting in a wheelchair for a long period of time.
EXGEL cushions have had 20 years of success as wheelchair cushions. They are highly acclaimed for their effectiveness in body pressure distribution and bedsore prevention.
Owl Kids is an Owl cushion that has long been loved for its functionality and friendly owl design. It is designed for children who use wheelchairs. It is recommended for those who need posture support and tend to slide forward when using a wheelchair.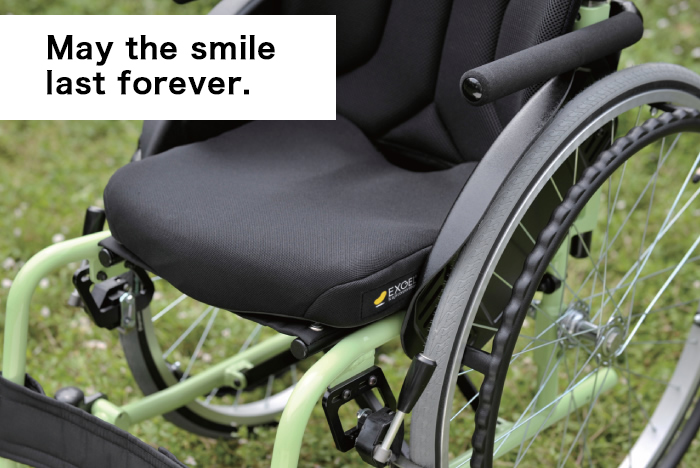 FEATURES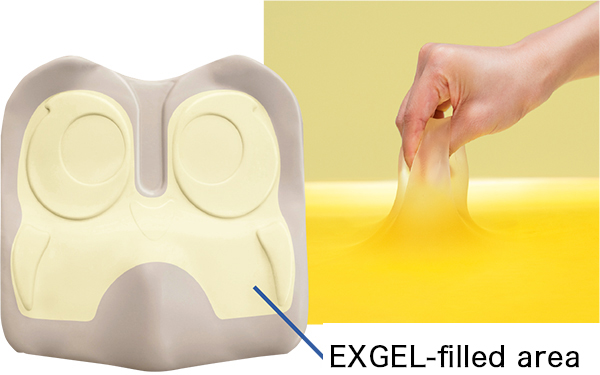 EXGEL prevents bottoming out
The extremely soft EXGEL provides cradling support to the ischium area.
It is an excellent gel material that resists deterioration over time and enables sitting without bottoming out.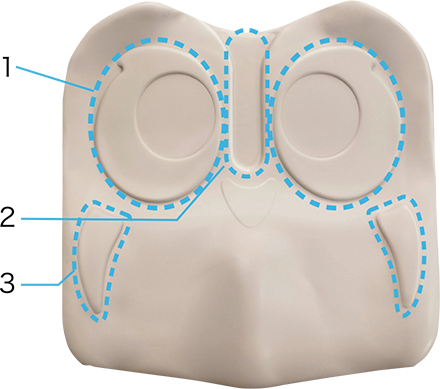 Owl design that maximize sitting comfort.

Owl design for better pressure redistribution
1. Owl eyes for cradling the buttocks.
2. Owl slit for reducing the pressure on the coccyx and the sacral.
3.Owl feathers on the edge to reduce pressure on the thigh.

Special washable cover for comfort
● Waterproof top, sides, and bottom: It reduces sweatiness and has simple waterproofing functions.
● Effective slip resistance: The cover of the cushion and the bottom part have been made slip-resistant. The hook-and-loop fastener on the bottom cover also provides support for a stable sitting posture.
● High water resistance: The fastener with simple waterproofing functions increases the cushion's water resistance.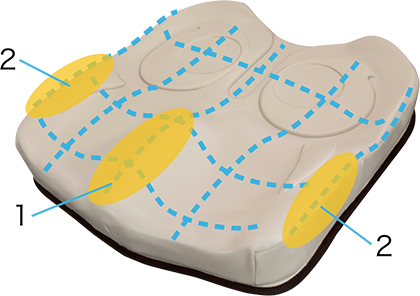 3D foam
The 3D form that fits the body enables excellent distribution of body pressure and a stable sitting posture.
The cushion is designed to prevent adduction(1) and abduction(2).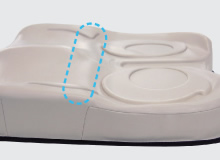 Owl anchor
It prevents forward sliding movements and enables a stable sitting posture.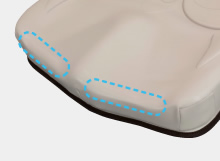 Forward-slanted design
The front edge is slanted to allow natural contact of the feet with the footrest.
Firm fit in wheelchairs
The bottom is tapered to fit wheelchair sling seats, enabling a stable sitting posture without bending the cushion.
SPECIFICATION
Material

Body

Top/Sides:Polyurethane syntetic leather
Filling:EXGEL (synthetic rubber), Polyurethane foam
Bottom:100% Nylon (Polyurethane and Acrylic coated)

Cover

Top/Sides:Polyester100%・Polyurethane foam・Urethane film
Bottom:100% Nylon (Polyurethane and Acrylic coated)
| | |
| --- | --- |
| Color | Body:Beige Cover:Black |
300 width 
OWK01-BK1-3032

Size

W30×D32×H7(cm)

Weight

approx.0.9kg
260 width
OWK01-BK1-2628

Size

W26×D28×H7(cm)

Weight

approx.0.7kg
280 width
OWK01-BK1-2830

Size

W28×D30×H7(cm)

Weight

approx.0.8kg
320 width
OWK01-BK1-3234

Size

W32×D34×H7(cm)

Weight

approx.1.0kg
*Product specifications, design, and other details shown on this website may change without prior notice.
*Product size and weight may vary.