TABI・ZABU ENZA
Portable U-shaped cushion that's gentle on the buttocks
A comfortable sitting experience on a train or plane with no need to worry about buttocks pain
Sitting is a huge pain for those whose coccyx hurts easily, as well as for post-partum mothers and people with hemorrhoids. Tabi-Zabu Enza was developed so that they can enjoy their time out of the house without worrying about buttocks pain. This handy cut-out cushion has a unique U-shape that reduces the load on problem areas. Since EXGEL is positioned in the ischium area where pressure is exerted the most, the surface underneath can be barely felt even when sitting for extended periods. EXGEL is able to provide a comfortable sitting experience though its excellent ability to distribute body pressure. Tabi-Zabu Enza is designed to perfectly fit train and plane seats. It's light at 0.4kg and can be folded in two, allowing it be carried in a bag. It's perfect not only for use in a vehicle, but also for hard outdoor benches and stadium, theater, or movie seats.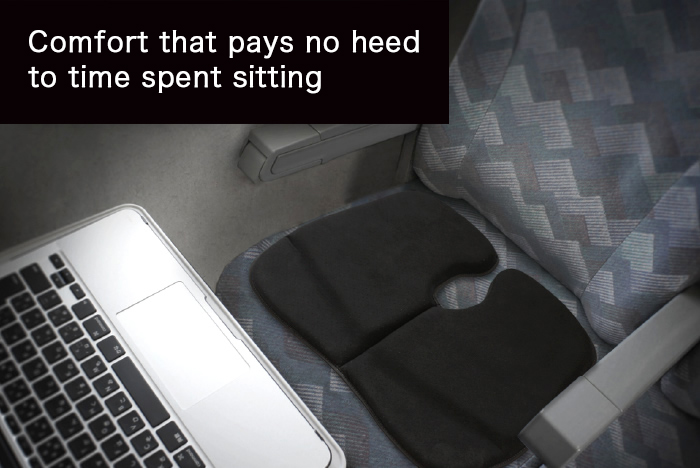 FEATURES
Donut-Shaped Cushions vs. EXGEL Enza Series

SPECIFICATION
| | |
| --- | --- |
| Product name | TABI・ZABU ENZA |
Material

Body

Top/Sides:Synthetic leather(Lamous®)
Filling:EXGEL (synthetic rubber), Polyurethane foam
Bottom:Polyurethane syntetic leather
*Product specifications, design, and other details shown on this website may change without prior notice.
*Product size and weight may vary.
Reliability that meets global standards

EXGEL has been certified with Standard 100 by Oeko-Tex, a label for products that meet internationally unified safety standards.
Products with EXGEL are also manufactured under ISO 9001 quality management certification.


Comfortable cushions for daily life